Discover more from Stet Media Group
Local journalism in the public interest
👻 Boo!
It's the 40th issue of Stet. We are happy to have you on our local journalism adventure. Today: our first contest; a $3 million question; another charge against Boca lawyer's son; Saturday's walk.
🐝 Cuteness overload: Stet pets
Welcome to Halloween!
What's happening: We were all set to sift through a flurry of furred pumpkins, the occasional bat-winged bird, even a cat in a tutu next to his heavily scratched owner.
Nothing prepared us for Simon the Bumblebee.
The critter who brought home the crown in our first Halloween Pet Costume Contest: A Boca Raton guinea pig in yellow and black stripes, tiny wings attached, with his jar of honey.
Simon's owner, longtime guinea pig fan — and, full disclosure, one-time Stet contributor — John Pacenti, wins a $20 pet shop gift card to buy Simon the treat of his choice.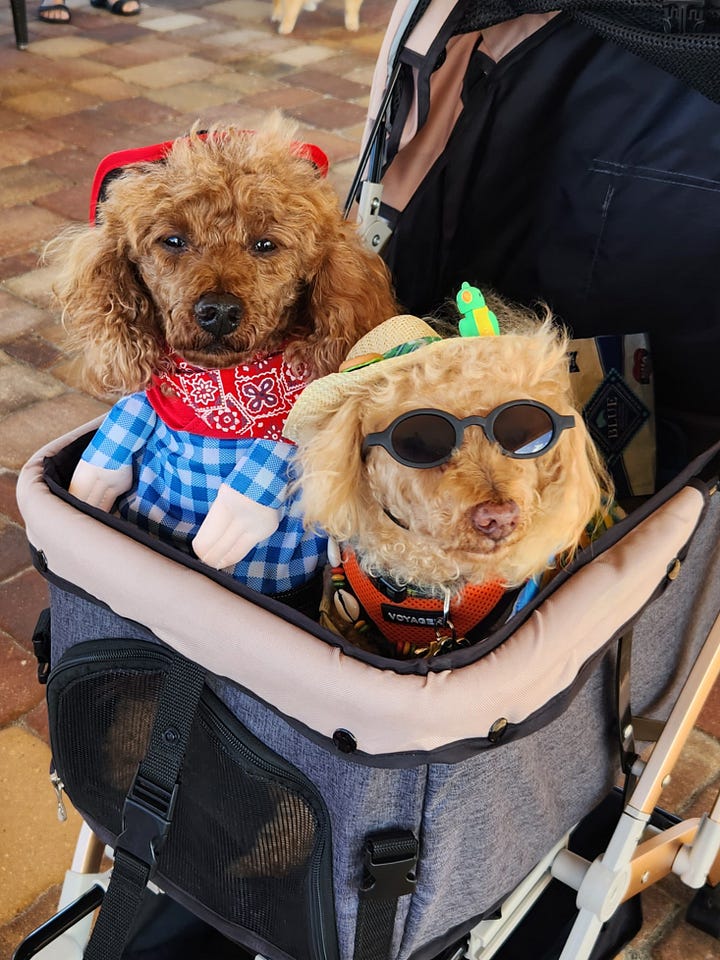 Finalist honors, and $10 treat cards, go to Kathie Arrants' Grover and Avatar (How do you get sunglasses to stay on a dog, anyway?) and Margie Yansura's doe-eyed granddog, Remy.
Thank you to everyone who entered.
As for last week's quiz about the most popular pet costumes: It's pumpkins for the win, followed by hot dogs, bats and trailing fourth, a tie between spiders and bees.
Unless, of course, it's Simon.
And now: The news.
---
👨‍👩‍👧‍👦 To city or not to city?
The question of whether to join Palm Beach Gardens is top of mind for many north county residents, whose communities will be asked in March to vote on becoming part of the city.
On Thursday, Palm Beach Gardens invited the 8,000-plus people who own properties in dozens of long-established neighborhoods to City Hall to ask those questions directly.
Is it better to have a city police force or the sheriff's office? 

Is city garbage pickup cheaper? 

Will a city firefighter arrive faster than one from the county? 

Will the city crack down on codes, forcing boats out of front yards? 

Will it cost more in taxes and fees?
Crowds swarmed at 5 pm, the start time for what many expected to be a traditional meeting with presentations and questions from the audience. 
What they found instead were city officials arrayed at stations to talk about all of the services residents would get if they voted "yes" on annexation. 
One table had five city finance workers behind laptops, ready to look up your property and tell you exactly how much more — or less — you would pay if you landed in Palm Beach Gardens.
Amid the deluge, neighbors compared notes. One community, Hidden Key, has retained an attorney and submitted a letter threatening to sue if they're not removed from the city's plan.
North Palm Beach has agreed to pursue annexation of Hidden Key and nearby Portage Landing in a competing referendum also scheduled for March 19.
Juno Beach is pursuing the voluntary annexation of Captain's Key, another community in Palm Beach Gardens' sprawling annexation Zone 1. If all 25 Captain's Key home owners agree to enter Juno, the Gardens' election results would be unenforceable on that community, Juno officials said. 
Juno council members were told Captain's Key is just one signature short. 
Others want no part of any city.
"I really came here wanting to know how does it benefit us. And I can't see that it does," said Peter Pasquariello, who bought a home in the gated Frenchman's Landing off Prosperity Farms Road in 2021.
Gardens' studies show the city would net about $3 million a year if voters approve annexation in all five zones.
What's next: The Palm Beach Gardens City Council will take the first of two votes at 6 pm Thursday at City Hall to place each of the five annexation zones on the March 19 ballot. The meeting will be live-streamed here. If they pass, the second set of council votes will be Dec. 6.
Celebrate our 40th issue by becoming a free or paid subscriber.
---
⚖️ New charge in Boca Raton attorney murder case
A Palm Beach County grand jury has tacked on another charge in the murder case of  Brandon Labiner, the Boca Raton attorney accused of killing his lawyer father in July. 
Labiner was arrested at his office hours after Paul Labiner's body was found in the stairwell of a parking garage. Paul had been shot four times.
Charged with first-degree murder with a firearm at his arrest, Labiner pleaded not guilty.
This month, a grand jury indicted Labiner on the murder charge and added tampering with evidence, a third-degree felony.
Evidence collected when Brandon Labiner was taken into custody included a backpack matching the description of one used by the shooter, a trash can with what appeared to be a burnt interior, a gas can, a lighter, boxes of 9 mm ammunition, gloves and a face mask.
Labiner remains in the Palm Beach County jail held without bond.  
Stet detailed the bitter rift between father and son in the months before the shooting in "The Unwinding of Brandon Labiner," which you can read here and here.
---
🎃 The juice
News that haunts us.
👷 From the beginning on Oct. 24, as he grilled GL Homes President Misha Ezratti, Palm Beach County Commissioner Mack Bernard showed he no longer supported the GL Homes land swap. But it took 11 hours — until County Mayor Gregg Weiss cast the decisive vote — to kill the proposal. Most local media covered the meeting, including The Palm Beach Post here, WLRN here and the Sun-Sentinel here.
🌀 Tropical weather systems are now twice as likely to accelerate from mild to major, study says. (Associated Press)
🌎 Floridians are more convinced that climate change is happening than Americans as a whole and strongly support steps to address its impact, according to a new Florida Atlantic University survey. (Press release)
🎲 The Seminole Tribe of Florida got a win this week in its two-year legal battle to launch online sports betting in the state, but an expert says the state's gamblers shouldn't expect to place a wager anytime soon. (Axios Miami)
💐 And, finally, a special story from Pat: The gift her dead mother left her. (The Palm Beach Post)
---
❤️ 561 insider: Countdown to NAMIWalks
Carolyn, here. Team Stet is gearing up for Saturday morning's 2023 NAMIWalks. 
Our crew has topped $3,000 in contributions toward NAMI PBC.
That puts us in sixth place among the more than 70 teams.
We're on our way to our team goal of raising $5,000.
Why we walk: There's so much to love about this event. It's community building, it's fresh air and it's to benefit mental health in Palm Beach County.
NAMIWalks promotes mental health awareness, raises money for the National Alliance on Mental Illness' free, top-rated programs, and lets people know they are not alone.
That mission takes on greater urgency with each tragedy like last week's horrific shooting in Lewiston, Maine.
Details: The walk starts at 9 am at John Prince Park west of Lake Worth Beach.
We invite you to join our team or click here to make a tax-deductible contribution to NAMI PBC.
🫡 A Stet salute to our NAMIWalks team captain and NAMI PBC board member, Joel.
---
📩 Coming to subscriber inboxes Thursday: Palm Beach County's drive to acquire land in an area known as Pal-Mar in the far northwest raises questions about how far the government can go to get the best deal for taxpayers.
And it underlines the flaws inherent in the appraisal process, flaws that captured national attention when unrealistic valuations laid the groundwork for the nation's 2008 housing bust. 
---
🇩🇪 Rolling along: Just another ho-hum victory Sunday over coach Bill Belichick and the New England Patriots for the Miami Dolphins. But wait, next up is Super Bowl champ Kansas City in the NFL's first-ever game in Frankfurt, Germany.
---
We are supported by our paid and free subscribers. Please help us grow by sharing this newsletter.
Do you have a story idea or a news tip? Reply to this email or write to stetmediagroup@gmail.com, and tell us.