Discover more from Stet Media Group
Local journalism in the public interest
🥘 Unconstitutional
Greetings. For you today, a setback for a law limiting food giveaways; a business program in peril; road work; and FAU's link to the woman behind a top YouTube channel.
🚨 Judge strikes down West Palm food-sharing rules
West Palm Beach's law limiting food giveaways is an "unconstitutional suppression of free speech," a judge has ruled.
What happened: Palm Beach County Judge August Bonavita last week dismissed the city's criminal case against four activists. They were charged during the summer with violating city rules by giving away food without a permit at a downtown waterfront park. 
In March, city commissioners tightened up on food giveaways, requiring organizers to get a permit for any event that shares food with more than 25 people. They also limited the number of annual permits for each location to two.
Food Not Bombs, though, continued offering food to groups on the city's Great Lawn at Clematis Street and Flagler Drive without seeking a permit. Members provide free food to protest war, poverty and the destruction of the environment.
The back story: On Aug. 26, West Palm Beach police arrested Nicholas Cubides, Carly Taylor Prinzo, Jacob Robbins and Sandy Matkivich for giving away food on the Great Lawn. The charge was a second-degree misdemeanor punishable by up to 60 days in jail and a $500 fine. 
Cubides, Taylor Prinzo and Robbins are members of Food Not Bombs.

Matkivich is a West Palm Beach community activist who helped clean up. She argued in testimony that her Roman Catholic faith requires her to feed the hungry.
The details: The judge found the city had violated the First and 14th amendments to the U.S. Constitution because there is no time frame for when a permit must be approved or denied by the city.
"Someone seeking a permit for a large group feeding event may be forced to wait indefinitely, even beyond the date of the event," Bonavita wrote.
Yes, but: The judge suggested that modeling the time limit on a court-tested Orlando approach would satisfy the constitutional issue.
The judge also found that the city has a substantial interest in blocking the feedings, unrelated to suppressing free speech, as argued by the defense. He freed the Hunger Four. 
What they're saying: Representatives from the city have said that potential food-borne illness and trash associated with unpermitted feedings pose health risks.

A city spokesperson told Stet that the city does not comment on pending litigation.
In September, the Downtown Development Authority announced a pilot program to increase police patrols downtown and create an outreach team to connect homeless people to services that can help. Read more from the DDA here.
---
⏰ Sharp words, late numbers and a reprieve for PBC's small, minority and women biz program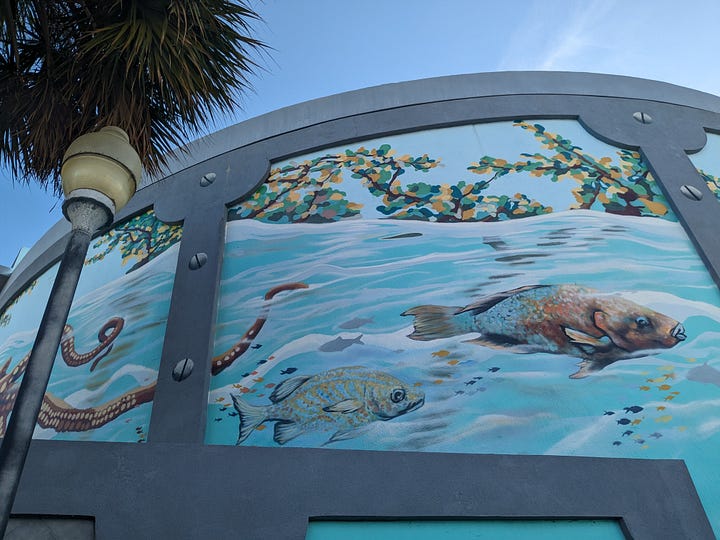 Under the radar last week, Palm Beach County's small and minority/women business enterprise program was barreling toward extinction.
County commissioners threw it an 11th-hour lifeline.
Yes, but: They weren't happy about it. And someone may yet lose their job.
At issue: Whether the program is fulfilling its goal of making sure small-, women- or minority-owned businesses get a shot at county contracts. Commissioners moved forward with the program in 2018 despite fierce opposition from local contractors. 
The first problem: No numbers and late numbers.
Commissioners only got their first look at data on how the program is performing Nov. 7 — years late and six weeks before the program was due to automatically shutter.
"We should have had a report once a year for the last five years," said Commissioner Maria Marino. "This is the first report. 

"How can people do business with the county if we can't even do  business with ourselves?"
The second problem: Some numbers raise questions.
Of  707 small-, women- or minority-owned firms certified by the program to do business with the county, 307 have never received a county payment.
And this: The majority of certified small businesses getting county business are owned by white men.
No one was more irate than Commissioner Sara Baxter, who at one point seemed to make the political discussion personal, demanding to know what credentials the director of the program brought to the job.
"Why continue a program we know is a failure?" said Baxter, citing the case of a woman who could not get certified by the county. "We should start over."
Flaws aside, though, "They have been right on the money with help and support," said Caron Bowman, one of more than a dozen local business people and advocates urging commissioners to keep the program alive, warts and all.  
Commissioners did so, with a directive that county staff provide updated data every six months.
"I think that if they don't, we are going to fire the people in those departments," said Commissioner Mack Bernard. 
---
🚜 Behind the construction at I-95 and Belvedere Road
The state is pouring $5 million into both sides of Interstate 95 at Belvedere Road with one of the two projects aimed at eliminating the dangerous merge for northbound drivers heading east onto Belvedere.
Contractor AUM Construction is ripping up the sidewalk and moving trees to add a second right-turn lane merging into Belvedere Road. 
That $2.4 million job started July 27 and is to be completed by summer.

From Nov. 12 to Nov. 16, the ramp is expected to be closed overnight (10 pm to 6 am). Drivers will be detoured to Australian Avenue via Southern Boulevard.
On the other side of the highway, contractor Ranger Construction is working to ease the short turnoff for southbound drivers exiting at Belvedere by extending the deacceleration lane. 
Making it more difficult: The work is not at ground level. The job requires widening the bridge over Belvedere Road.
That $2.58 million job started Sept. 18 and is to be completed by summer.

The I-95 southbound exit ramp to Palm Beach International Airport faces overnight closures (10 pm to 6 am) from Nov. 12 to Nov. 16, the Florida Department of Transportation says. Drivers will be detoured to Australian Avenue via Southern Boulevard.
---
🍊 The juice
Fresh-squeezed headlines
🌳 The failure of GL Homes to secure a land swap involving building protected land in the Agriculture Reserve doesn't mean development pressure has gone away.  South Florida Sun Sentinel reporter Abigail Hasebrook writes that Bedner's Farm Fresh Market hopes to secure more than 200,000 square feet of warehouse office space by getting an agriculture land use designation changed to commerce. A second firm sought permission to build nearly 100,000 square feet of warehouse space. That request was withdrawn; the Bedner's request was postponed. (South Florida Sun Sentinel) You can read Joel's coverage of the GL Homes vote, here.
🗳️ These ballots are ready for their close-up! Instead of randomly selecting a percentage of precincts for a post-election audit to ensure electronic tabulation totals align with a manual count,  Palm Beach County Supervisor of Elections Wendy Link says the office will be checking all votes cast, in all precincts, in the 2024 election, "an extra layer of transparency."
➡️ Longtime local newspaper readers may remember the excellent crime reporting by Palm Beach Post reporter Jenny Staletovich in the 1990s. Well, she's the environmental reporter for WLRN radio now and on Wednesday the station and the Pulitzer Center release her Everglades podcast, "Bright Lit Place." We haven't heard it yet either so let us know what you think. (WLRN)
🚇 As Brightline zeros in on a Treasure Coast stop, Vero Beach leaders say they know it won't be in their city. (Vero News)
🔍 A Royal Palm Beach High teacher was arrested in January when he brought a gun to school. He'd been showing signs of trouble for nearly four years. (The Palm Beach Post)
---
🔭 Quiz Answer: Blue Moon-bound
Jeff Bezos' relocation to Miami puts the Blue Origin entrepreneur that much closer to his space tech company's Florida operations.
Last week we asked: NASA recently handed Bezos' Blue Origin a $3.4 billion spacecraft contract. But for what?
The answer: the Blue Moon lunar landing system. Blue Origin will develop, test and deploy the system for Artemis V, NASA's mission to explore the moon — including a manned moon landing in 2029.
Nice work for an online retailer!
More: The high-flying future Mrs. Jeff Bezos. (Vogue)
---
📺 561 insider: An influencer from among us
Meet former FAU student Kristi Cook, the mind behind Spill Sesh, a 5-year-old YouTube channel that details the lives of social media stars.
Cook's amazing stats:
She has 700,000 subscribers. (That's more than Stet!)

Her videos have 350 million views.

In a month, she earns $20,000 from YouTube ads. In a good month, she earns $50,000.
What we know: Cook, 26, was a student in the communications department at Florida Atlantic University, and in fall 2015 she was a collegiate correspondent for USA Today. 
She dropped out of college when she landed an internship at TMZ in California that turned into a full-time job.
Why we know it: Cook kept her identity secret until this month, when The New York Times wrote a profile about her. 
 "YouTube was where I was consuming all my content from middle school and beyond," she told The Times. (Link to the full story for free.)
---
🏀 Stet Sports: No Dolphins football to report this week (although happily Buffalo lost again), but the Miami Heat won five straight after losing four straight. So another up-and-down basketball season begins.
---
We are supported by our paid and free subscribers. Please help us grow by sharing this newsletter.
Do you have a story idea or a news tip? Reply to this email or write to stetmediagroup@gmail.com, and tell us.